Mini Baluns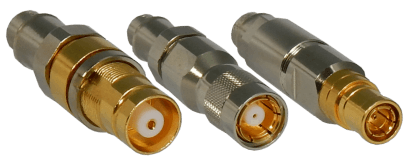 Mini Balun 2-8Mbit Order Codes
Order Codes
2-8Mbit/s
0.25-0.40 wire
Order Codes
2-8Mbit/s
0.50-0.65 wire
Description
B13008065
B13008060
BNC(M)
B13019065
B13019060
BNC(F), bulkhead mount
B13001065
B13001060
1.6/5.6(M), snap on
B13002065
B13002060
1.6/5.6(M), screw on
B13003065
B13003060
1.6/5.6(F), bulkhead mount
B13045065
B13045060
1.6/5.6(F), bulkhead, r/a
B13043075
B13043070
1.0/2.3(M), posi-lock
B13044075
B13044070
1.0/2.3(F), bulkhead mount
B13053065
B13053060
1.0/2.3(M) posi-lock r/a
B13046065
B13046060
BT43(F), posi-lock
B13048065
B13048060
BT43(M), fixed mounting
B13049065
B13049060
BT43(M) DDF plug, white ring
B13052075
B13052070
HDC43(M) DDF plug, blue ring
B13078075
B13078070
SMB(F), snap
B13083075
B13083070
SMB(M), bulkhead mount
Mini Balun 2-34Mbit Order Codes
Order Codes
2-34Mbit/s
0.25-0.40 wire
Order Codes
2-34Mbit/s
0.5-0.65 wire
Description
B04008065
B04008060
BNC(M)
B04019065
B04019060
BNC(F), bulkhead mount
B04001065
B04001060
1.6/5.6(M), snap on
B04002065
B04002060
1.6/5.6(M), screw on
B04003065
B04003060
1.6/5.6(F), bulkhead mount
B04045065
B04045060
1.6/5.6(F), bulkhead, r/a
B04043075
B04043070
1.0/2.3(M), posi-lock
B04044075
B04044070
1.0/2.3(F), bulkhead mount
B04053065
B04053060
1.0/2.3(M) posi-lock r/a
B04046065
B04046060
BT43(F), posi-lock
B04048065
B04048060
BT43(M), fixed mounting
B04049065
B04049060
BT43(M) DDF plug, white ring
B04052075
B04052070
HDC43(M) DDF plug, blue ring
B04078075
B04078070
SMB(F), snap
B04083075
B04083070
SMB(M), bulkhead mount
Mini Baluns provide a fully shielded connection of  twisted pair cables to coaxial connectors in Telecom digital networks. This allows the use of smaller lower cost twisted twisted pair cables that consequently saves installation time, space and cost.
Created for the world's largest Telecom OEM and utilised around the world because of their ease of use and savings.
Built to exceed the ITU's G.703 transmission standard the Mini Balun is low loss, fully shielded, EMC, EMI and RoHS compliant.
In addition to reducing space and cost Mini Baluns provide a single connectivity solution for the myriad of coaxial connectors in a network. They consist of three parts and are simply terminated without the use of special tools.
Produced in two speed ranges 2-8MBit/s and 2-34MBit/s that allow the user to select the optimum performance for the target application.
Mini Baluns provide:-
shielded twisted pair cable  connection to coax connectors
BNC, 1.6/5.6, 1.0/2.3, BT43, SMB coaxial interfaces in M and F versions
connections to conductors from 0.25 to 0.65mm (22 to 30AWG)
cable and panel mounting options
small size (typically 35-45 mm long)
contact us for special or types not listed on this website
Fast and easy to use because:-
only three parts to assemble (connector, stuffer cap and tube)
no small pins or washers
no special tooling, no soldering, no heat shrink and no crimpers
every Mini Balun part has the same terminating procedure
faster to assemble than coax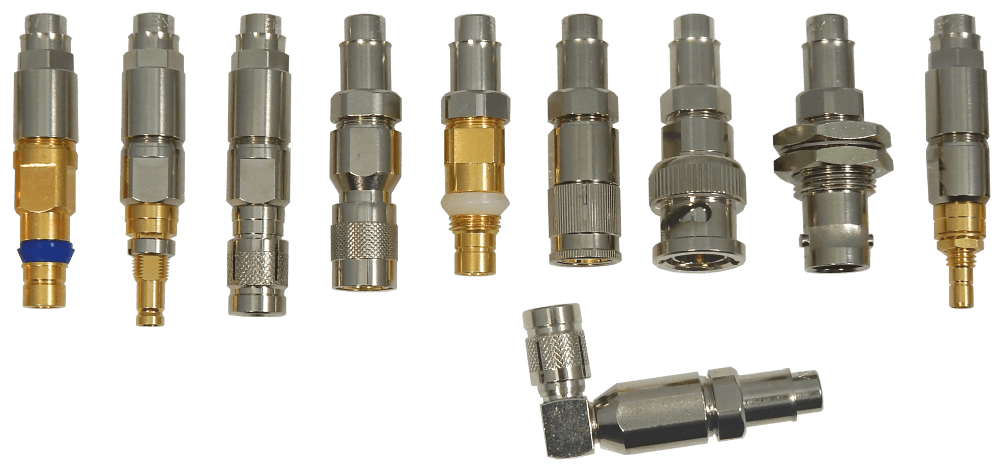 ---