Miniature Circular Connectors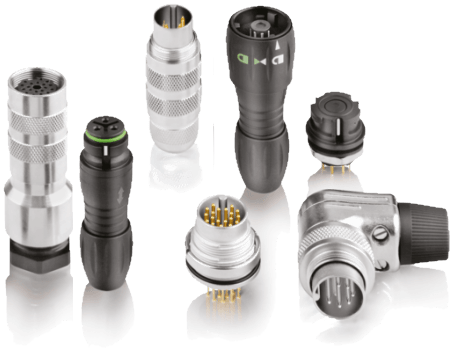 Binders Miniature Circular Connectors provide easy and quick assembly, with optional bayonet locking for added reliability. Connectors are available in straight or right-angle with 4 adjustable radial positions. Gold or silver plated contacts are available for superior connectivity.
The range of Miniature Connectors also offer environmental protection ratings from IP40 up to IP67 where complete weather-proofing is ideal. For added protection, rugged metal shells are available for severe commercial and industrial applications. Colour coded plastic shells are also available allowing for simple, customisable identification.
Please browse through to the specific types of Miniature Circular Connectors available and their product sheets including:
Miniature M16 Connectors (IP67)
Miniature M16 Connectors (IP40)
Miniature Push-Pull Connectors (IP67)
Miniature Bayonet NCC Connectors (IP67)
Miniature Bayonet Connectors (IP40)
Miniature Snap-in Connectors (IP67)
---